Access better decision making
Uncover the hidden truths and meaning in your people, your teams, the organisation and your customers so that everyone makes better, more confident and more valuable decisions.
Lift your entrepreneurial capabilities
Access the benefits of technological progress through a new culture of entrepreneurial and strategic thinking. Know how to combine a growth mindset with an understanding of your current readiness and entrepreneurial capabilities.
Build a culture that embraces change
The pace of change is faster than our ability to keep up with it. The right thinking unlocks the potential for the right approaches, and so allows the organisation to adapt readily.
Identify your future leaders
Take control of your succession strategy by identifying your future leaders early. Gooroo can help you identify individuals with the 'X factor' while illuminating the pathway to get them ready.
Prepare people & teams for a technologically-driven future
Review your existing teams, understand how they align to your future and identify those at risk. Gooroo insights will help you build teams that can thrive in an environment of change and uncertainty, while understanding pathways for individual development and/or re-skilling.
Introduce a new best practice
Better information in your hiring process will reduce bias, improve stakeholder alignment and cultural fit. Gooroo helps you define success charateristics, taking the guesswork out of talent selection while introducing best practice.
TAKE A LOOK AT Gooroo PEOPLE analytics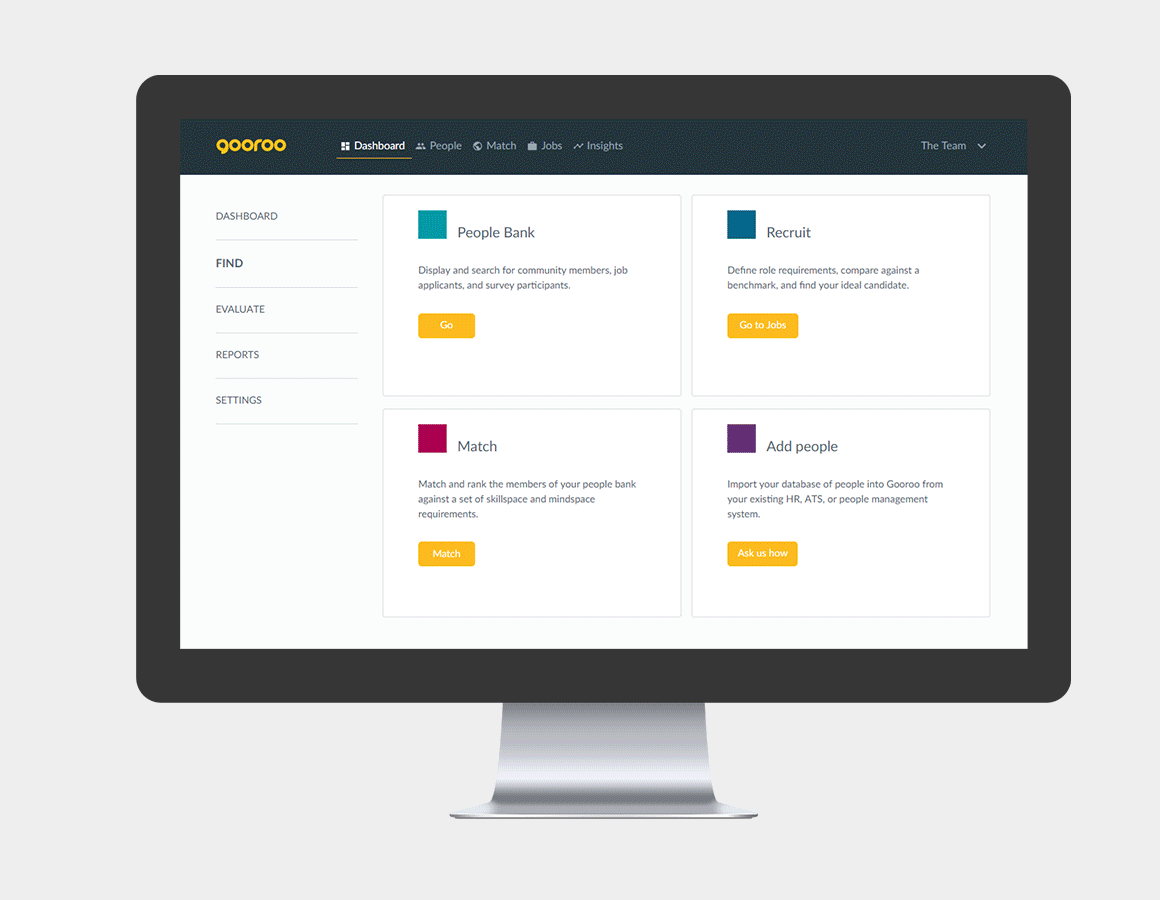 Put simply, there is no other tool like it, anywhere. Understand individuals and teams, define role success benchmarks, match people to roles, screen applicants for fit, evaluate cultural alignment, build profiled talent communities, and more.
KEY features and benefits
Optimise your workforce
Identify where opportunities exist to enhance performance and optimise your workforce to expand your access to better decision making.
Design for growth
Use Gooroo to identify what's holding back your people and teams while mapping where you should introduce innovation, creative and entreprenuerial thinking to drive growth.
Align your culture
Evaluate the degree to which everyone is aligned in your organisation and define the pathways to correct any imbalance and improve collaboration.
Get more from your teams
Identify how each of your teams approach their work and identify interventions that will improve performance, collaboration and alignment.
Recruit more confidently
Get the right person in the right team through setting human thinking benchmarks and matching individual capacities to role requirements, team dynamics and culture.
Collaborate with your partners
Define and fill an open role by collaborating internally or with your external partners. Work with one integrated and consistent candidate shortlist to reduce error and bias.
Build your 'bench' of qualified talent
Build a profiled and pre-screened community of talent. Use Gooroo's AI-based matching technology to get just-in-time access to qualified and available capability.

Develop & reskill for the future
Understand both preferred and aligned individual development pathways to determine opportunities for re-skilling, coaching and internal mobilisation.
What our partners and clients are saying
"We have been working on building service lines and solutions that integrate Gooroo technology & intellectual property. Gooroo represents an important cog in our strategy and we are excited about the significant opportunities that are now in front of us."
Rod Bryan, Lead Partner, Solution49x, KPMG
"These are the most insightful, accurate and actionable team evaluations I have ever seen, and I have seen many!"
Rowena Stocks, General Manager – GM Organisational Capability, Kinetic IT
"We recognised Gooroo's technology as world-leading. Gooroo is of enormous value in our ability to build scale into our operations, reduce risk and prepare us for the future."
Michelle Ridsdale, ex People Director, Readify (part of Telstra)
Frequently asked questions
How do I access the platform?
Gooroo People Analytics is a cloud-based software platform accessible from anywhere in the world.
How long does it take to get up and running?
While you can get started with Gooroo within days. we will also work with you to define an implementation strategy that is aligned to your organisation. Professional development programs are also highly recommended to maximise your advantage of the insights delivered.
HOW DOES GOOROO collect ITS DATA?
There are numerous methods. The simplest way is request that each staff member complete their own profile. This only takes 10-15 mins. Secure APIs are also available to integrate with third party databases.
What makes Gooroo different from OTHERs?
Gooroo People Analytics is like no other as it uses the science of human thinking at its core. Gooroo is focused on lifting the decision-making capability at all levels of an organisation. With the right people and decision making, teams are more aligned, execution is more effective and efficiencies are more quickly realised.
Can Gooroo help me understand my customers?
Yes, our strategic decision analytics engine can process multiple customer datasets to identify opportunities to better focus on the customers you're targeting, and how to communicate with them to improve adoption.
I'M not SURe IF GOOROO IS RIGHT FOR ME?
If you have a focus on growth and innovation, and know you need to do things differently to position and compete, then please contact us. We can offer a high touch approach or give you the tools to lead your transformation. We work with organisations of all sizes. You may like to take look at a few case studies.
does Gooroo OFFER A partner PROGRAM?
Yes, we partner with consulting groups, value-adding recruitment firms, system integrators and other service providers . If you are interested in learning more about becoming a partner, contact us.
Gooroo People Analytics is made available on a consumption-based licensing model, typically based on your organisation's size. Consumption is defined as the number of individuals added to the platform each year.
Are you ready to transform with confidence?
Understand the value in your people and unleash their potential for growth. Schedule a time for a confidential discussion.