What Gooroo can do for Recruiters
Identify potential
Identify those people who have potential to contribute in more meaningful and valuable ways to an organization.
Team formation
Leverage Gooroo's science to understand what's needed and to design more engaged and effective teams.
Workforce planning
By looking at the way people think and approach challenges, organise your workforce to ensure the right thinking ('talent') is identified and applied to the right challenges.
Talent development
Adding proven science to understand people, their roles and teams so they can engage more successfully to transform the organisation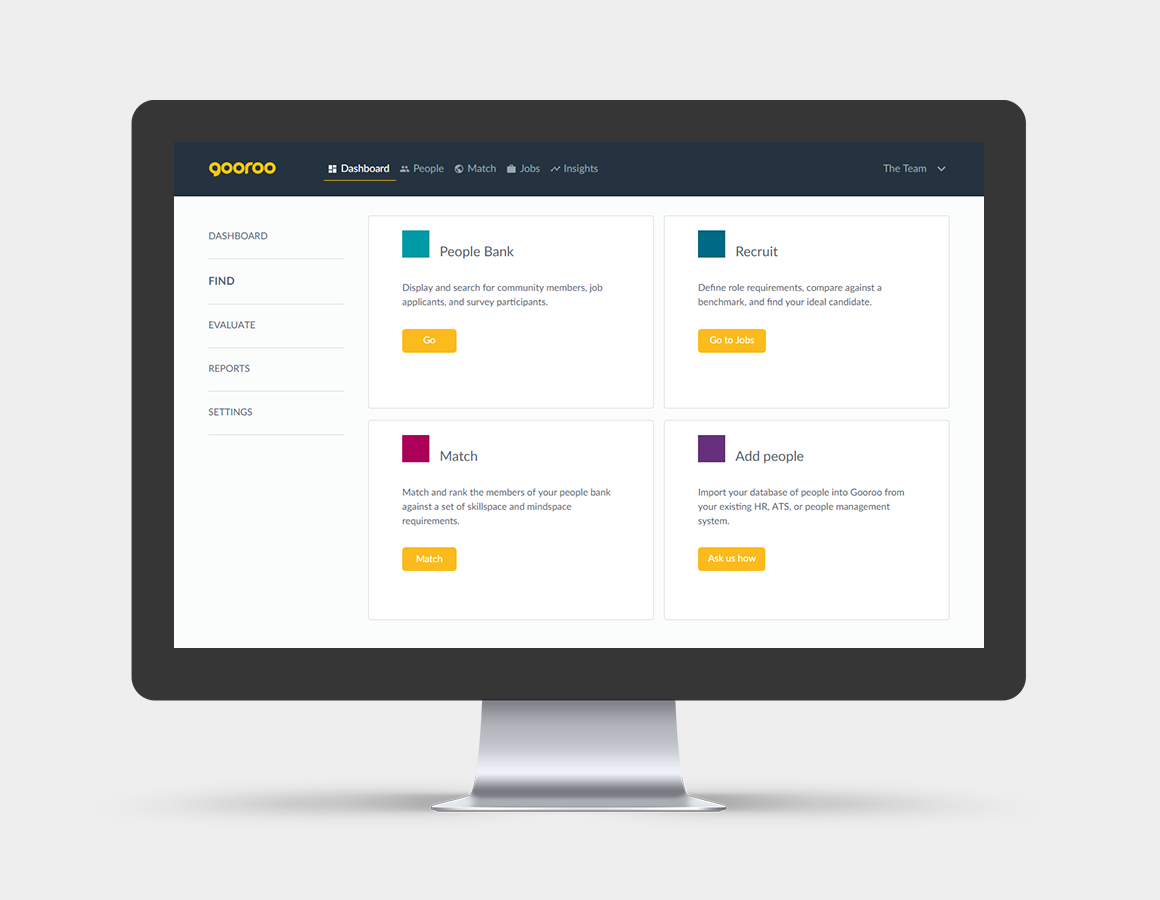 See how recruiters use Gooroo
Transforming how leaders make people decisions. Put simply, there is no other tool like it, anywhere.
Getting started with Gooroo
Take the ColourGrid® survey
The first step is to take the ColourGrid® survey. It takes a couple of minutes. You'll get results, and we'll be in touch with your detailed report.
Identify pain points
Identify the pain points within your organisation using surveys. Scientific approach to make sure you're asking the right questions.
Set benchmarks
We'll help you set benchmarks using our scientific approach. Combining neuroscience, big data & AI backed by 40 years of research.
Interview staff
In person or online. Anonymous. Impossible to cheat. GoorooX can identify if a survey is being completed inaccurately.
Collate results
We combine AI and neuroscience, not just data. You'll get results, and strategies to move forward.
Implement strategies
Achieveable and practical. Offering even global corporations unparalleled insight, speed and confidence over their decisions.
"These are the most insightful, accurate and actionable team evaluations I have ever seen, and I have seen many over the years."
Rowena Stocks, General Manager – Organisational Capability, Kinetic IT
"We have recognized Gooroo's technology as world-leading. Gooroo is of enormous value in our ability to build scale into our operations, reduce risk and prepare us for the future."
Michelle Ridsdale, People Director, Readify (part of Telstra)
Frequently asked questions
Easy-to-use, scalable people analytics platform that integrates seamlessly with existing infrastructure.

Globally scalable.

Cloud-based software.

PC & mobile optimised.

Supports any size of business.

API framework to support integration with other technology, platforms and systems.
How long does it take to get up and running?
Same day.

Can start immediately.

We recommend training to make the most of GoorooX.
Does Gooroo provide training & support?
A range of training packages.

Most packages come with support.

See the training options.
What makes Gooroo different from competitors?
Gooroo brings advanced science and data to a business decision or career move; accurately, reliably and rapidly.
Gooroo processes help to reduce unconscious bias and promote diversity in the workplace.
Gain actionable insights about the cultural alignment and performance of teams by identifying the dynamics and pressures present within an existing team, and therefore where and how to improve them for improved performance.
Gain a measurable view of each team which can be used as a benchmark to measure the impact of their development plans and account strategies.
Who else is using Gooroo?
A range of clients from Auto, Government, Health sector, recruitment, etc. Our solutions have helped organisations around the world. But don't ask us - ask them.
View case studies
Who does Gooroo partner with?
Partners including KPMG, Randstad, Deloitte, etc. are using the GoorooX platform to transform organisations. View partners
Starts from $XX for up to XX users/month.
Subscription or flat fee.
Depends on size of organisation.
Contact us for pricing for your organisation.
Ready to try it for yourself?
Understand the value in your people, and deliver the tools to unleash their potential.